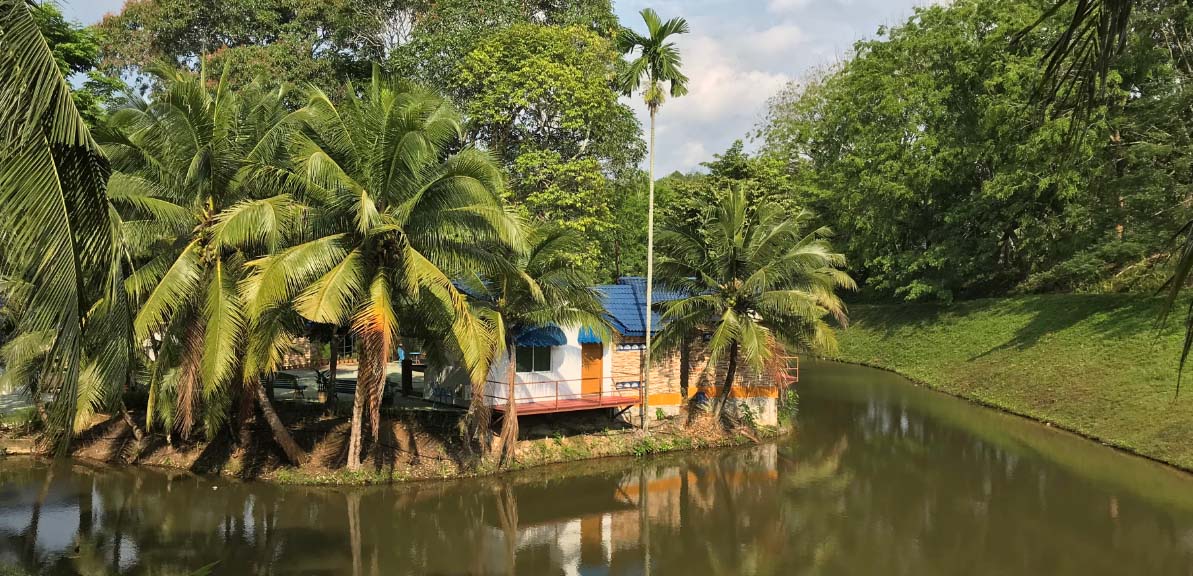 Orchard Lake Villa
A small private man made island surrounded by beautiful greenery. With 4 cabins and a medium size swimming pool, this is a perfect option for small group who seeks to stay together or a place for small gathering or event. Enjoy the calm and peaceful scenery surrounding the island which provide total privacy.
Specifics:
4 x Individual cabin with King Bed, with exceptional views of nature and green.

Maximum for 2 guests to stay (2 adults) in 1 cabin.

1 x Private Swimming Pool (medium)

1 x Small Club/ Activity House
Accommodation include the following:
Air-conditioning

42 inch flat-screen TV

Mini fridge and complimentary bottled water

In-Room Safe

Telephone

In-Room Coffee/ Tea maker

Working area

Dining area

Living room

Hair dryer

Bathroom with Shower

Umbrella

Complimentary Wi-Fi

Complimentary access to Fitness Center

Complimentary Spa facilities (steam room, jacuzzi, cold plunge pool)


*FREE Speleotherapy (Himalayan Crystal Salt Room Therapy) for Full Board Package only

Complimentary Pool facilities (outdoor swimming pool, spa pool, thermal pool)

Complimentary access to Fruit Farm (free sampling on seasonal fruits of the month)

Complimentary In-House Movie at Amphitheatre

Complimentary herbal beverages and snacks at Tea Salon (4.00PM – 5.00PM only)

Complimentary parking

REPEAT GUEST OFFER
Valid from 31st March –
30th November 2020
Repeat guests receive extra
benefit of one free night on
minimum stay of 4 nights and above reservation.
Terms and Conditions Apply
PAYMENT AND CANCELLATION POLICY
All rates will be charged in Malaysian Ringgit (MYR) at the time of booking.

Any miscellaneous expenses incurred during the stay are charged at the time of check-out.

Cancellations are not possible without incurring a charge.

Cancellation charges apply to both wellness programs and accommodation bookings
CHECK-IN POLICY
Check-in after 14:00 PM | Check-out before 12:00 PM
CHILDREN POLICY
Maximum 2 children stay free in parents room using existing bed(s) in room. Extra bed is available and chargeable. Children aged 14 years and older are considered adult and will be fully charged.
Children are not allowed to enter Be-Well Spa, Thermal Pool, Spa Pool and Olympic size Swimming Pool for safety reasons. They are welcomed at our kids club and may take their meals through in-room dining at Safari Kids and on special occasions in our Bon Appetite restaurant. Our kids club offers supervised scheduled activities and fitness classes and meals for a fee. Splash Pool is available at Safari Kids for children to play.
Young teens 14 or older may take advantage of all resort facilities when accompanied by an adult.
NOTE:
Effective from 1st September 2017, Malaysia imposed Tourism Tax (TTx) on foreign tourist staying at an accommodation premises in Malaysia at a flat rate of RM10.00 nett per room per night.
This rate also applies on a stay for part of the day. This tax is applicable to all foreign guests, regardless of their nationality or purpose of travel such as holiday, business and studies.
Melaka State Goverment imposed a mandatory RM2.00 nett Heritage Tax Fee per occupied room per night for all hotel accommodation. The collected funds will be used for the upkeep of Melaka Heritage Sites.
Tourism Tax and Heritage Tax Fee will be collected from guests upon check-in at the resort.